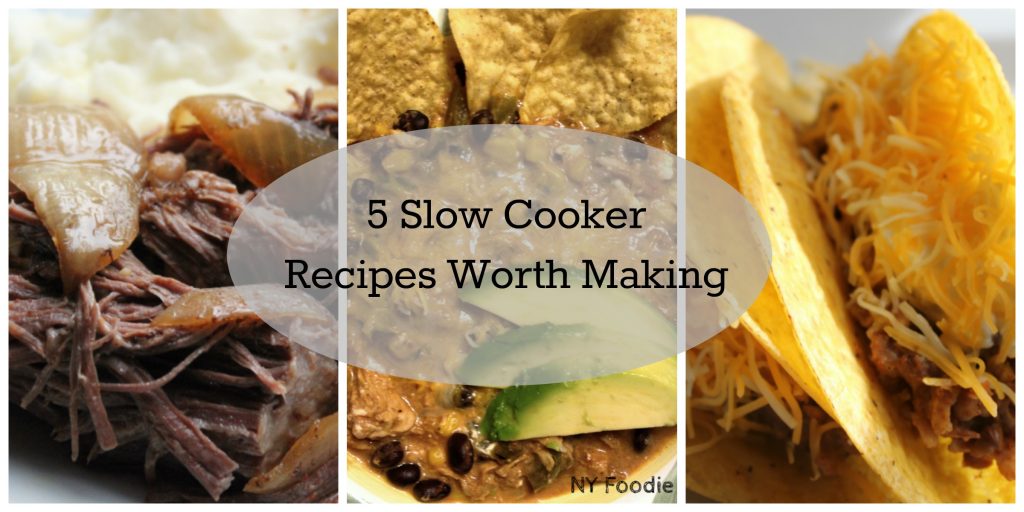 For my busy family, the slow cooker is a kitchen tool necessity.  I love being able to throw everything into the slow cooker in the morning and have dinner ready when needed. Today I decided to share with you five slow cooker meals that my family has really enjoyed.  In no particular order, here are five slow cooker recipes worth making!

1.Slow Cooker Cola Barbecue Beef – This slow cooker beef from Melanie Makes was so tender and delicious!  This was the first time I cooked a chuck roast in the slow cooker.  However, since making this recipe it hasn't been the last!  Another plus of this recipe is that unlike most beef slow cooker recipes, this one doesn't require you to sear the roast before putting into the slow cooker.
2. Slow Cooker Stuffed Peppers – These stuffed peppers from Damn Delicious were a pleasant surprise.  I rarely make stuffed peppers, but this recipe had me questioning why I don't make them more often.  Besides pre-making the rice, which I did in the slow cooker the night before, there is no other pre-cooking for this recipe.

3. Slow Cooker Lentil and Brown Rice Tacos –  This is another recipe from Melanie Makes.  (Can you tell it's a favorite food blog of mine?!!)  These are a vegetarian family favorite.  They are a flavorful and filling taco that even the kids enjoy.  This recipe has made several appearances on our weekly meal plan, which is a rare occurrence!

4. Crockpot Potato, Cheddar and Ale Soup – Writing about this soup from Pink Parsley reminds me of how tasty it was and how I should make it again while the weather is still cool.  There's a little bit of prep work for this – peeling and cutting the potatoes and some microwaving of the potatoes with some other ingredients for five minutes.  At the end you need to blend the soup, which I highly recommend doing with an immersion blender.

5. Queso Crockpot Chicken Chili – This chili from Pinch of Yum was delicious!  We ate it almost like a dip using tortilla chips.  Again, this is another recipe that I think will be making another appearance on our menu soon!