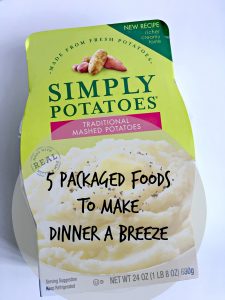 In case you couldn't tell by my blog name, I love to eat…..and cook.  Some nights both kids have different activities and there's not a lot of time to cook or sometimes I'm just too tired to feel like cooking (c'mon, tell me I'm not the only one!).  It's so easy to want to pick up the phone and call for a pizza or some Chinese takeout.  Not only does that get old after awhile (….and expensive!), but it's also not the healthiest of options.  In the time it would take to call for takeout and wait for it to be cooked and delivered, you can make some of these packaged foods and have dinner on the table in no time.  When I don't have time or just don't feel like cooking a homemade, from scratch dinner these are some of our go-to packaged foods:
1.Simply Potatoes – Traditional Mashed Potatoes – My mom first introduced me to these potatoes several years ago when I had my wisdom teeth pulled and couldn't chew. Well, let me tell you, these potatoes are amazing!  The first ingredients are potatoes, half and half, whole milk, and butter.  These potatoes can be microwaved and ready in about 5 minutes.  I buy these for convenience, so even though you can cook these in the oven or on the stove top we don't go that route for the sake of speed.  These potatoes are super creamy and delicious.  Both my kids LOVE these.  Even my son who doesn't usually like mashed potatoes (or maybe MY mashed potatoes!) asks for seconds when we have these.  Simply Potatoes also makes a variety of other types of potatoes including shredded hash browns, potato wedges and even macaroni & cheese.  However, we love the Traditional Mashed Potatoes the best.  These potatoes are found in the refrigerated section of the grocery store and normally retail for approximately $3.99 a package.  They are often on sale though, which is when I usually stock up on them!
2. Dole Chopped Salad Kits – In the past couple of years our kids have become salad fans.  Especially Caesar salad.  And as much as I love salad, I really dislike all of the chopping necessary to make a good salad.  This is where I pick up Dole Chopped Salad Kits or Caesar Salad mix.  I love how everything is already prepared and just has to be put in a bowl and mixed.  Plus, the kids can help mix everything and have become quite the expert "salad makers."
3. Pierogies –  Growing up in my house, pierogies were a weeknight dinner staple.  While I don't make these often, I do usually have a couple of packages in the freezer for when we are in need of a quick and easy dinner.  For those that aren't familiar with pierogies, they are an Eastern European filled dumpling.  The frozen ones that I have found in the supermarket usually contain some type of potato and cheese filling.  However, traditionally, pierogies can be filled with sauerkraut, ground meat, or even fruit.  When I make them, I boil a pot of water, throw the pierogies in, when they float to the top in approximately 5-7 minutes I drain the water and eat them.  When I have extra time, I will saute some onions in a frying pan and then add the pierogies to the pan, after they are boiled, to brown them up a bit and give them some extra flavor.  This is my preferred method of cooking.  If you want to keep the meal vegetarian, you can cook up some veggies or make a salad to go with.  Otherwise, you can heat up some kielbasa to go with the pierogies.   I grew up on Mrs. T's Pierogies that only came in one flavor, Potato and Cheddar Cheese.  Mrs. T's now makes a huge variety of pierogies including their newest flavor Mozzarella, Tomato & Basil which we recently tried.  These were great served with marinara sauce!  Pierogies can be found in the freezer section of the grocery store and can range in price based on brand.  I prefer to buy Mrs. T's Pierogies, and can often buy them on sale for $2.50 a box.  
4. Gorton's Smart & Crunchy Fish Fillets – We recently tried these new fish fillets from Gorton's and I was pleasantly surprised.  I baked them for twenty minutes, flipping them half-way and they ended up with a nice crunch.  I like that they have 50% less fat than Gorton's regular fish fillets.  Pair these with the mashed potatoes and salad kit and you have a meal! I purchased this bag with 8 fillets, on sale for under $5.
5. Store-bought Pizza Dough – Friday night at our house is usually pizza night.  Homemade pizza, that is.  We prefer the frozen pizza dough found in the bakery section of our local Shoprite.  If they don't have any there we'll get the refrigerated variety found by the shredded cheese.  Yes, you can make homemade pizza dough, but this store-bought dough is just so cheap and easy to cook!  We defrost the dough the night before in the refrigerator.  Then, a couple of hours before we plan to make the pizza we take it out of the refrigerator.  The dough is a blank canvas for whatever type of pizza we are craving.  The kids usually prefer plain, but my husband and I are always trying out new pizza recipes including Onion, Pear & Gorgonzola Pizza with Balsamic Glaze and Olive Potato Pizza.
What packaged foods make your dinner time easier?