We are fortunate to have kids who love to eat as much as we do! While they don't always love everything they eat, they are almost always game for at least giving new foods a try. Throughout the course of raising our now 15 and almost 13 year-old, we've enjoyed a host of different food experiences. We've come up with this list of 5 fun places to eat with kids.
1. The Melting Pot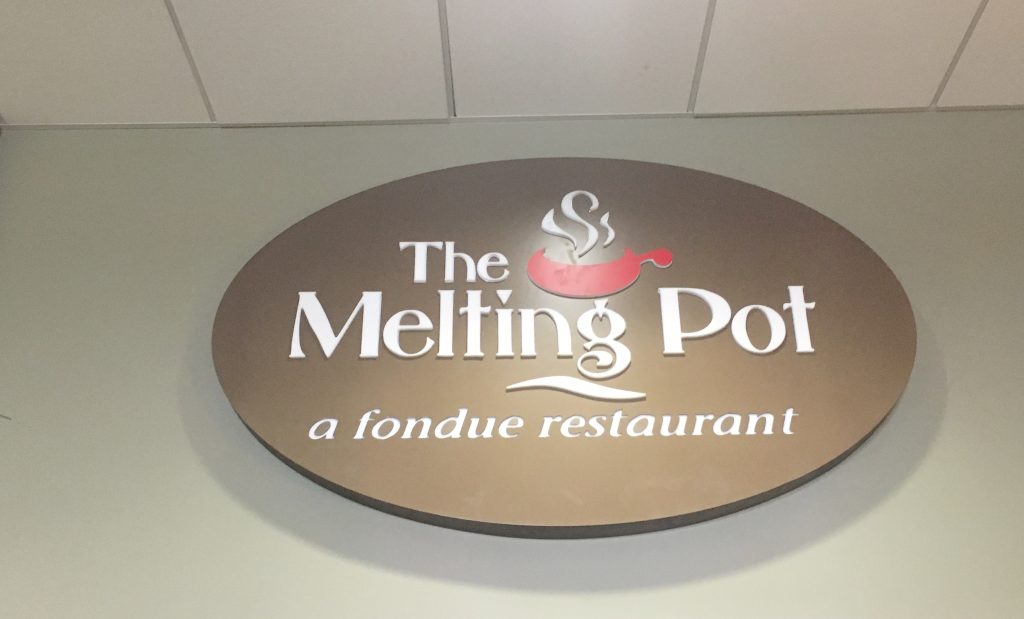 With 167 locations throughout the United States, plenty of Americans are likely to find a Melting Pot restaurant within a reasonable driving distance.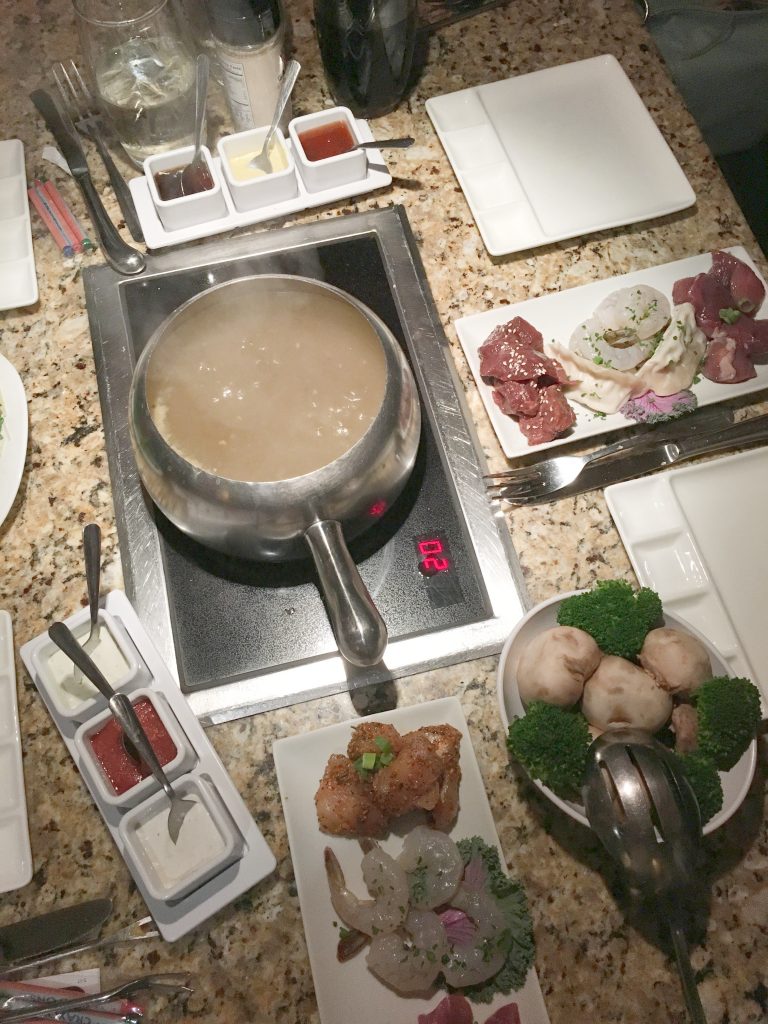 We enjoy doing the full fondue experience which includes an appetizer fondue, salad, entrée fondue and dessert fondue. While it's been a couple of years since our last visit, the portions are fairly generous. We always shared two adult portions between the four of us. For the appetizer, there's a choice of cheese fondues which includes artisan breads and seasonal fruits and veggies to dip. Then there are four different salads to choose from (the California is my fave!). For the entrée, the proteins and veggies are self-cooked in your choice of styles (Bouillon, Coq Au Vin, Mojo, Cast Iron or Bourguignonne) and served with a variety of dipping sauces. Based on the proteins you choose, your server advises you how long each item should be cooked for.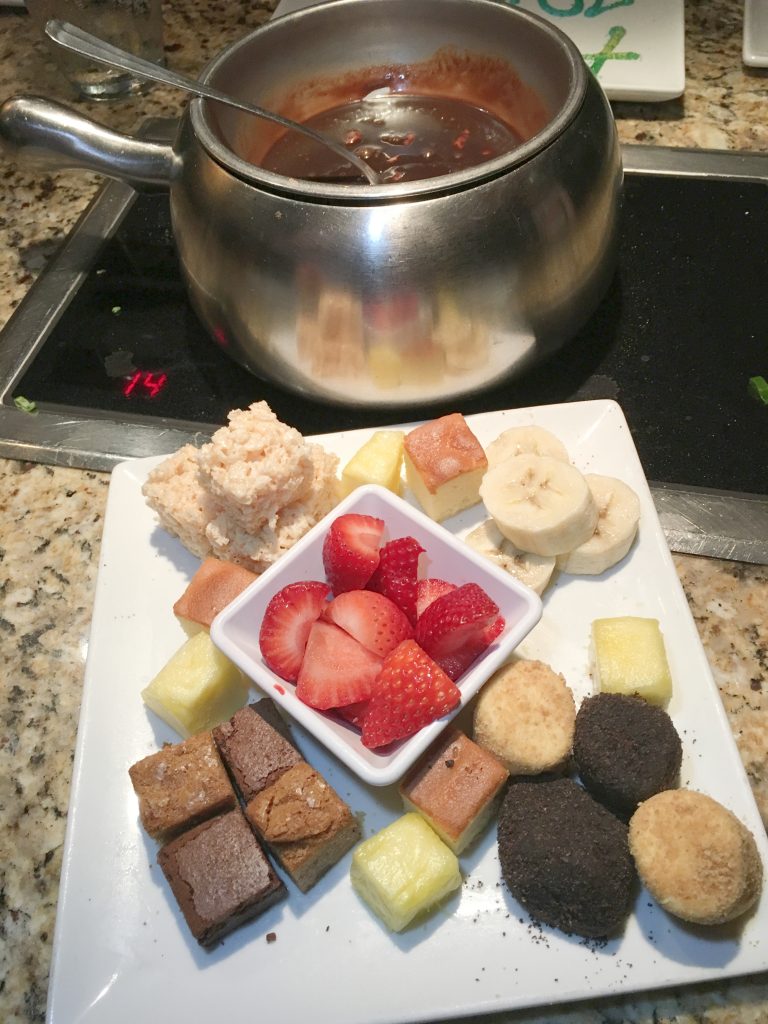 And, of course, we make sure to save plenty of room for the chocolate fondue at the end. There are several different chocolates to choose from which is served with a variety of treats and fruit. Read more about our visits to The Melting Pot.

2. Medieval Times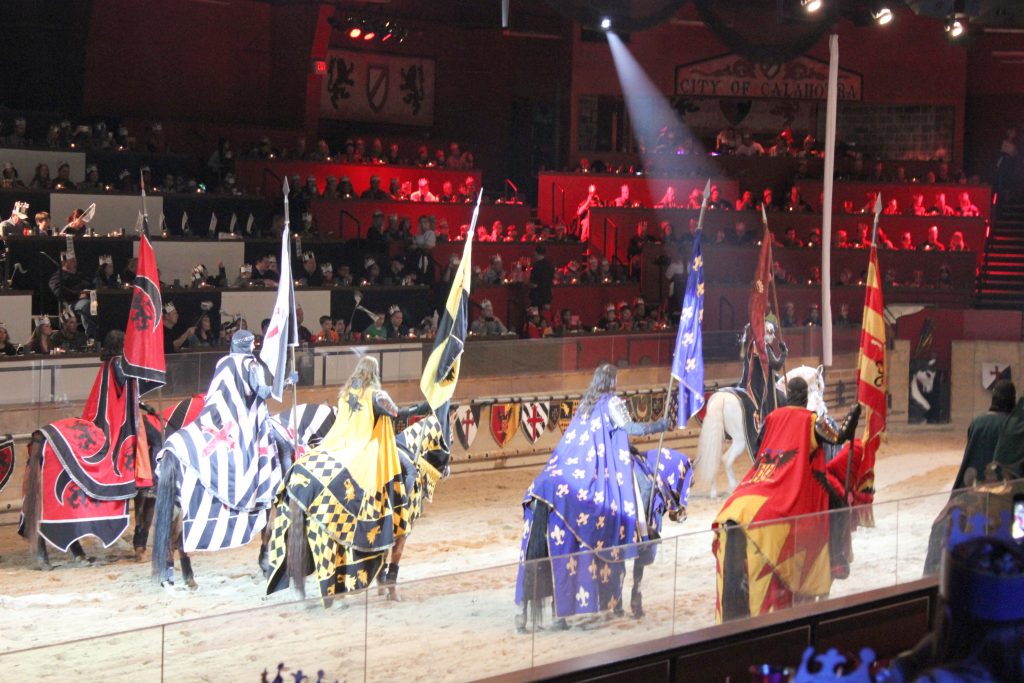 Medieval Times is a dining experience. Not only do you enjoy a full meal, but you get to watch an entertaining show. Based on your seating area in the arena, you are assigned a colored knight to cheer on as he competes in various challenges.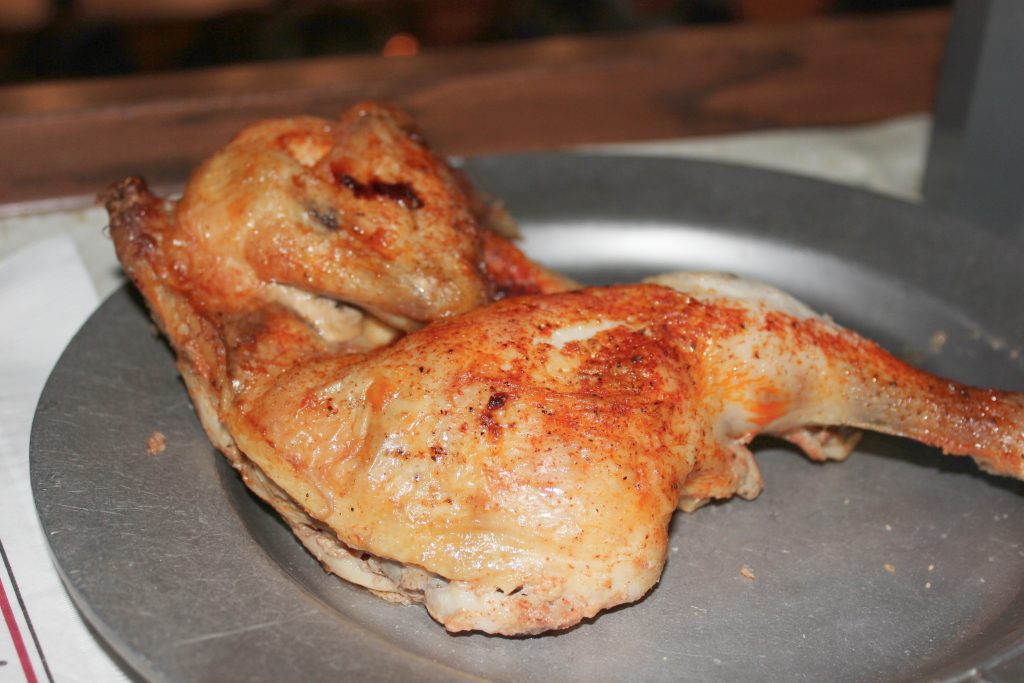 The food is decent and you get to eat with your hands, like you would during the Medieval Ages. It's definitely a fun dining experience for kids! Read more about our visit to Medieval Times.
3. Conveyor Belt Sushi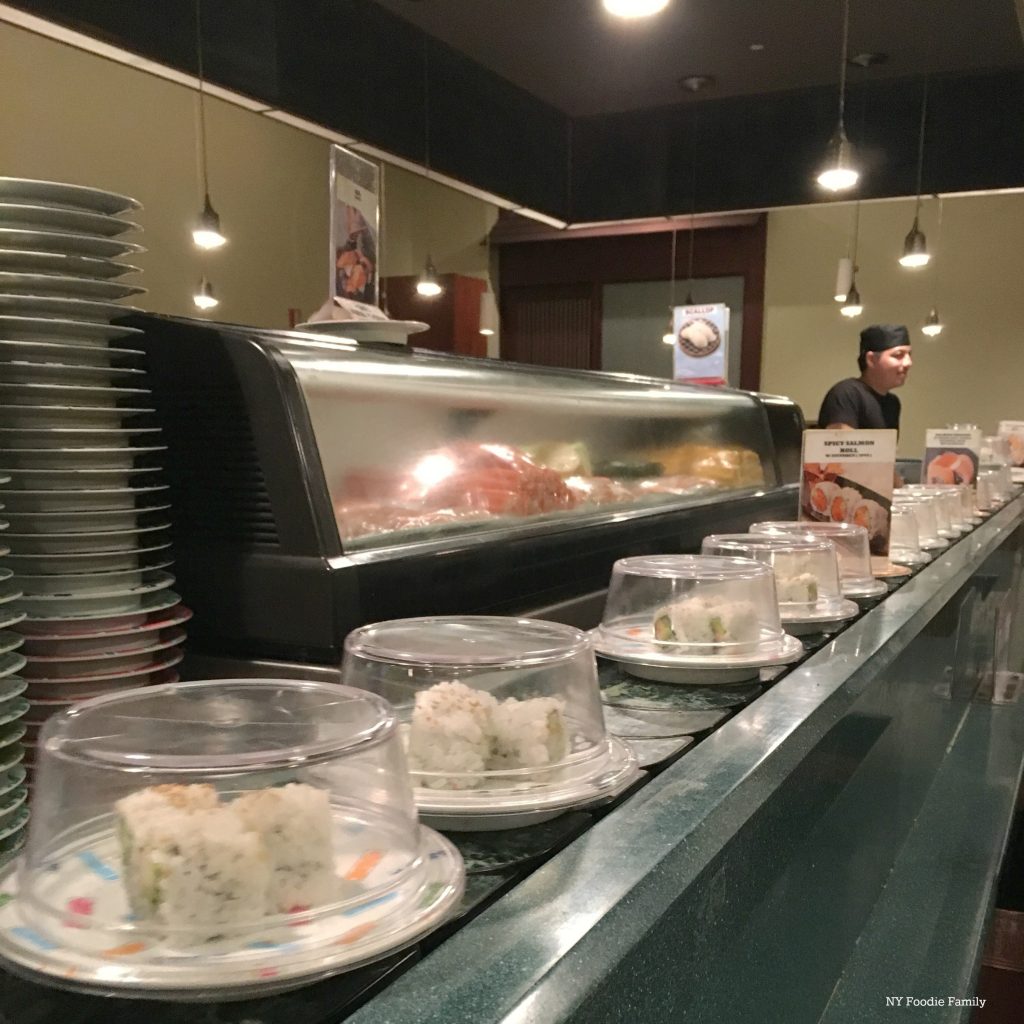 If your kids are sushi lovers, they will love a conveyor belt sushi restaurant. Our go-to has been East Japanese in the Palisades Center. The conveyor belt is filled with a variety of different sushi; from basic rolls to super-fancy sushi mountains. There are also other items like seaweed salad and fried chicken. Desserts like mochi and cheesecake make an appearance on the belt as well. The food is placed on small plates that travel their way around the restaurant dining space. If you see something you want, you grab the plate off the belt. There are different colored plates, with each color being a specified price. Once you are finished, the waiter/waitress adds up all the plates. Read more about East Japanese. Edit: It seems this great location has unexpectedly and recently closed. We are saddened by this, as the only other conveyor belt sushi restaurants we are aware of are in New York City and northern New Jersey.
4. Hibachi
Hibachi is a classic. What's not to love about watching your meal be cooked in front of you? Especially when it involves onion volcanoes, toys that "pee" and the chef throwing eggs in the air and catching them in his hat. And many restaurants have a diner participation round of catching the flying shrimp (or the more budget-friendly zucchini) in your mouth.
5. Food Halls and Food Truck Festivals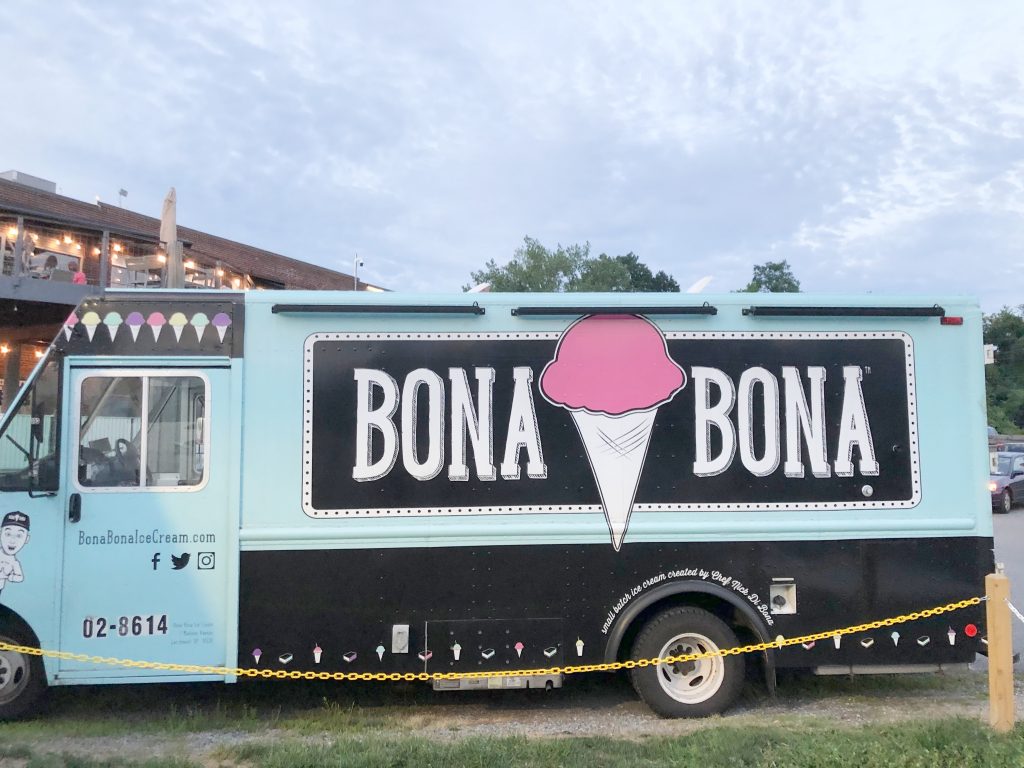 Food trucks used to be a rare treat. Now a days, you can likely find a food truck festival taking place somewhere near you almost every weekend! We love food truck festivals and food halls because you can try a bunch of different foods from different vendors. There's something that will likely please every member of the family. While the bigger food halls are in NYC, we also enjoy Hudson Valley Food Hall in Beacon, which you can read more about here. Check out our Westchester County Food Truck Guide for more info on the different food trucks that can be found in the area.
If you've enjoyed reading 5 Fun Places to Eat With Kids you may also enjoy reading: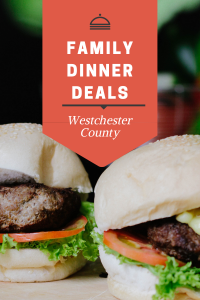 Family Dinner Deals in Westchester County