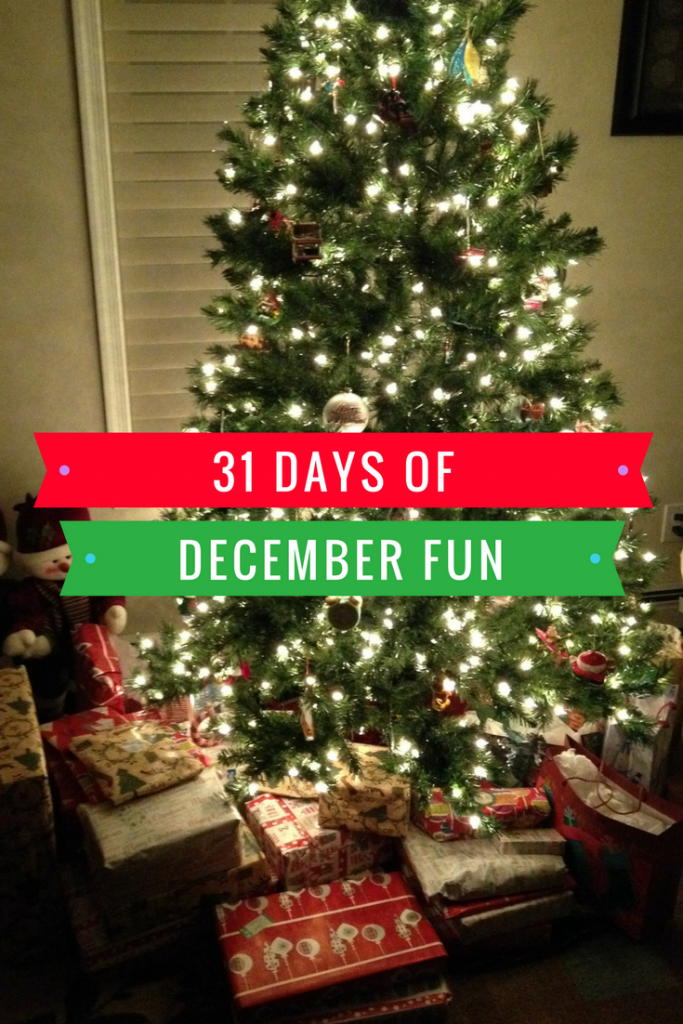 1. Freeform's 25 Days of Christmas Movies begins tonight.  Schedule in time to watch some of your favorites.  Why not plan a movie marathon night or two?
2. Looking for a new Netflix binge?  Check out what is leaving and what's new for December.  If you're more of an Amazon watcher, here's what's coming to Amazon Prime in December.  If you're more of a bookworm, check out all the new books being published in December.
3. Have you put up your Christmas tree or started decorating yet?  If not, now's the time!
4. Get in the Christmas spirit by listening to some holiday music. Sia, Pentatonix, Gwen Stefani and Lindsey Stirling all have new Christmas albums out.
5. Hanukkah begins next Tuesday.  Get in the spirit by reading some of these books with your children.  Or get them ahead of time so you can read one each night of Hanukkah!
6.  Be a Christmas Angel. Check your local church or community organizations to see if they have holiday wish lists for children in need.
7. Still working on your holiday shopping list?  Check out my gift guides on the hot holiday toys for school-age kids and preschool kids.
8. It's getting chilly out there.  Have you switched over to your flannel sheets?
9. Check out your community calendar and schedule in a day of local fun. Whether it's a winter festival, show or parade, stay local today!
10. Take a drive around your neighborhood and check out the holiday lights.
11. Get your picture taken with Santa!
12. Tonight is the first night of Hanukkah.  Happy Hanukkah to those who celebrate.  Even if you don't celebrate, why not make some latkes?  They are delicious!
13.  Have a date night.  Just you and your significant other.  No friends, no kids.  It's time to reconnect before the holiday craziness begins.
14. Declutter and do a Goodwill drop-off before the holidays.  Help your kids clean out and make room for new toys, books and clothes.
15. Spend some quiet, relaxing time as a family.  Work on a puzzle together.  We enjoy the White Mountain family jigsaw puzzles.  We have this What's For Breakfast 400 piece puzzle that has pieces in three different sizes so everyone can work at a level that's right for them.
16. Winter is perfect for soups and stews. We love this Loaded Potato Soup.  Even better, it can be made in the slow cooker!
17. Today is National Maple Syrup Day!  Enjoy some homemade (or frozen) waffles or pancakes and pour on the maple syrup. We love Soukup Farms Coffee Infused maple syrup!
18. Bake some holiday cookies.  Here are 30 cookies from around the world!
19.  Do a random act of kindness (RAOK).  Pay for the person's order behind you at the drive-through or double the tip you leave your waiter or waitress.
20. Donate non-perishable food to your local food pantry.
21.  Have a gift-wrap-a-thon.  Gather all your wrapping supplies, put on some fun tunes and get all your presents wrapped and ready!
22. Have a family game night! Here's one of our family favorites.
23. Bundle up and plan a day of ice skating fun!
24. Don't forget to set out cookies and milk for Santa!  It's also National Egg Nog Day!  Celebrate with one of these 18 recipes!
25. Merry Christmas!  Hope Santa brought you everything you wanted!  Enjoy the day with family and friends!
26.  Spend a relaxing day at home enjoying all your new presents.  If you're a real go-getter, start finding homes for all your new gifts.
27. The planner nerd in me is so excited for the new year.  New Year = new planner! If you don't use a planner, now's the time to think about using one for 2018!  I love the Happy Planner and have two – one for the everyday and one for my blog planning.
28. Get some fresh air. Take a family walk around the neighborhood.
29. After all the holiday spending, have a no spend day. Make your coffee, pack your lunch, cook dinner. Try not to spend any money today.
30. Hopefully, we have snow by now.  Get out in the snow and build a snowman, go sledding, have a snowball fight!  Then you can warm up with a nice mug of hot cocoa!
31.  It's New Year's eve!  Ring in 2018 with your loved ones!