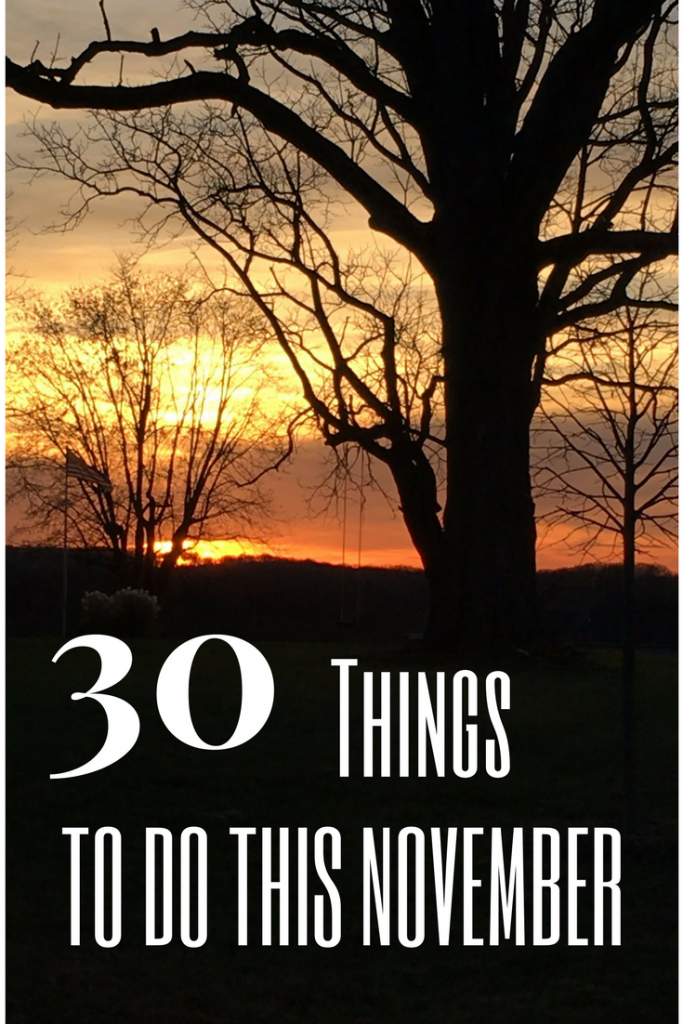 A new monthly calendar feature with suggestions of things for you to do this month!
(This post contains affiliate links.  Thank you for supporting this blog.)
1. A Bad Moms Christmas comes out today.  Gather your girlfriends and have a girls night out!
2.  Today is National Men Make Dinner Day!  Get your man in the kitchen…..or have him bring some takeout home!
3. Need a sugar fix?  Now's the time to get leftover Halloween candy on deep discount!  If you're trying to get rid of the Halloween candy, check out "5 Things to Do with Leftover Hallween Candy."
4.  Tomorrow we  fall back for daylight savings.  Remember to set your clocks back and enjoy your extra hour of sleep!
5.  For those of us in Westchester County and the surrounding area, Hudson Valley Restaurant Week is taking place from now until November 12.  Take advantage of the 200+ restaurants offering 3 course dinners for $32.95.  If you're not in the Hudson Valley, try dining at a new-to-you restaurant!
6.  Tomorrow, (Nov. 7) Renegades, the first in Marissa Meyer's new series is published.  Fans of YA fantasy might enjoy this new book. Other anticipated book releases include Artemis by Andy Weir (author of The Martian) (Nov. 14), Hardcore Twenty-Four (Nov. 14) the next Stephanie Plum novel in the series by Janet Evanovich,  and Promise Me, Dad (Nov. 14), Joe Biden's memoir.  What will you be reading this month?
7.  It's election day.  Exercise your  right and go out and vote!
8.  Netflix has several new original shows and movies coming in November.  Check out the full list of everything that is coming and leaving Netflix this month.
9. Start going through the kids' drawers and closets to see what they need in terms of winter gear – coats, hats, gloves, boots, etc.  There's nothing like being unprepared for a surprise snow storm!
10. If you weren't able to see these movies in the theater, some notable movies coming out on DVD this month are Cars 3 (Nov. 7), The Glass Castle (Nov. 7), Wind River (Nov. 14), Whose Streets? (Nov. 14) and Logan Lucky (Nov. 28).
11. Happy Veteran's Day.  Thank a veteran and attend a Veteran's Day ceremony.  Remember we are the land of the free, because of the brave.
12. Fall is all about pumpkin spice and everything nice. Bake one of these pumpkin desserts.
13.  Today is World Kindness Day.  Here are 10 Ways you can celebrate it with your kids.
14. Cook something new for dinner.  The weather is getting cooler and it's a perfect time to make a new soup or stew recipe.  This month I plan on trying out this Slow Cooker Sausage Lentil and Arugula Soup.
15. Today is Clean Out Your Refrigerator Day.  Get rid of those old condiment jars and throw out the forgotten leftovers.  Wash out the bins and wipe down the shelves.  If you're feeling really motivated, wipe down the front and sides and vacuum the coils as well!
16. Read some Thanksgiving-themed picture books with your kids!
17. The movie Wonder comes out.  If you haven't already, I highly recommend reading the book first!  It's a story about August (Auggie) Pullman, a boy born with facial differences.  For the first time he attends the local public school, which becomes a learning experience for everyone.
18. How fun is it to get mail that's not bills or junk mail?!  Send a friend or family member a card via snail mail to let them know that you're thinking of them!
19. Are you traveling  by car for Thanksgiving?  Take some time before your trip and do a quick maintenance check.  Fill your wiper fluid and check the pressure in your tires.
20. Ben & Jerry's is collaborating with Jimmy Fallon on a new ice cream flavor.  The secret flavor finally gets announced this month!  Be on the lookout for it in your local grocery store!
21. If you haven't already, now's the time to start thinking about your holiday cards.  Many online photo sites have special upcoming Back Friday deals that early birds can take advantage of.
22.  Disney Pixar movie Coco comes out.  Viewers will also get to see short, Olaf's Frozen Adventure, before the movie.
23.  Happy Thanksgiving! Put on your stretchy pants because it's time to feast! Start your day with the Macy's Thanksgiving Day Parade which begins at 9 AM EST on NBC.  Give thanks today and appreciate all you have.
24. Are you going to brave the Black Friday sales today? Before you go, set up a game plan of the stores you want to visit and the deals you want to take advantage of!
25. Now that Thanksgiving is over try some of these recipes for using up those leftovers!
26. Have a family game night! One of our recent favorites is Wits & Wagers.
27.  It's cyber Monday!  Get your online shopping deals today!
28. Produce in season this month includes beets, brussel sprouts, parsnips, potatoes, turnips, winter squash, apples and pears.  Buy seasonally and locally, if possible.
29.  November is officially sweater weather! Break out your sweaters and get warm and cozy! I'm on the lookout for some new sweaters.  Have you bought a recent favorite?
30.  Listen to a new podcast.  If you've never listened to one, you don't know what you're missing!  Check this list out for some new recommendations.  I am always on the lookout for new podcasts, so let me know what you're listening to in the comments!