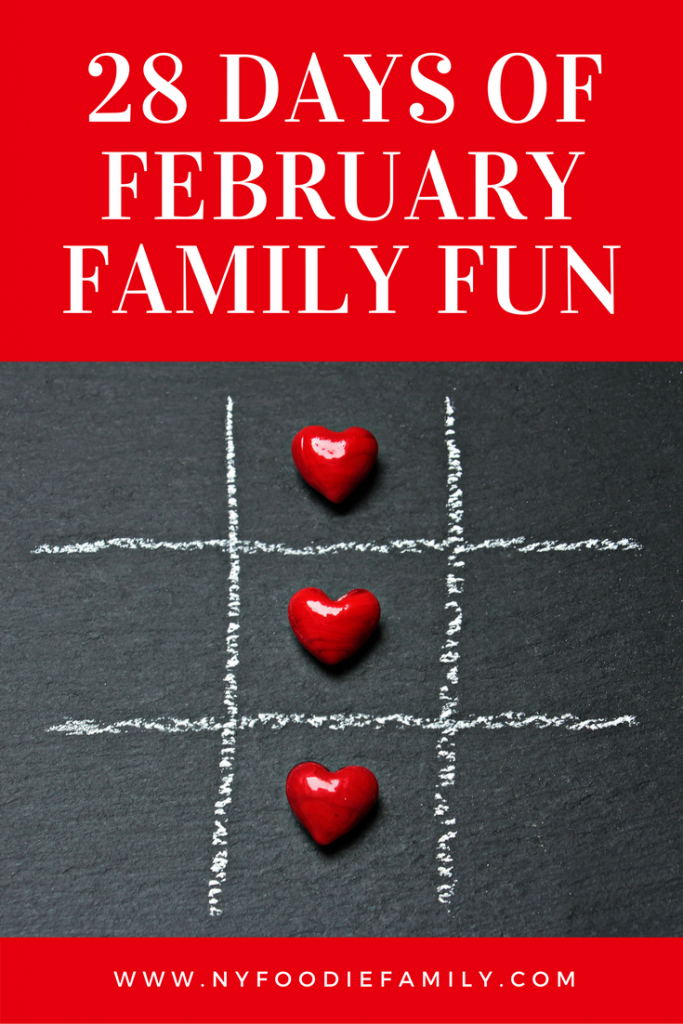 (This post contains affiliate links.  Please read our Disclosure Policy for details.)
February will be here in a couple of days.  Although it is a short month, with Valentine's Day, the Olympics and President's Day/February break, there is a lot going on!  Here are 28 days of February family fun!
1. February is Black History Month.  Published this month, read Young, Gifted and Black with your kids to introduce them to 52 Black heroes from past and present.
2.  Will the groundhog see his shadow today?  Tradition says if he sees his shadow there will be six more weeks of winter.  If he doesn't, we can expect an early spring!  Here are twelve Groundhog Day picture books that you can read with your kids.
3.  Have a video game day!  Have your kids show you their favorite video games and play with them.  My son's current XBoxOne faves include Cupheads and Marvel vs. Capcom.
4. Today is the Super Bowl! Make some of these snacks for your game day party while you cheer on the Eagles or Patriots!  While I'm not a football fan, I will be watching the half-time show and the commercials.  Take a sneak peek at some of the commercials!
5. Today is World Nutella Day!  Here are 60 ways you can use using this delicious hazelnut spread.
6. Check out the new shows coming to Netflix, Hulu and Amazon Prime in February and plan some binge watching.
7.  Valentine's Day is in a week.  Have you made or purchased your child's Valentines?  If you need some ideas, here are over 50 Valentines you can print at home.
8. The 2018 Winter Olympics begin tomorrow in Pyeongchang County, South Korea.  Have your child find South Korea on a map.  Pick out some sports that your family will watch and cheer on Team USA!
9. Today is National Pizza Day!  Make homemade pizza for dinner.  We love this Onion Pear and Gorgonzola Pizza with Balsamic Glaze.
10. Take a family road trip!  Hop into the car and visit a new-to-you nearby town.  Have lunch or dinner out, and explore the sites.  Enjoy being a local tourist.
11.  For many kids, breakfast is their favorite meal of the day.  Start your Sunday off by going out for brunch!
12. Make some chocolate playdough (that you can't eat!) and then make some chocolates in these heart-shaped molds that you can eat!
13.  Today is Fat Tuesday and Mardi Gras!  Read some of these Mardi Gras books with your kids and make a King Cake!  In the United Kingdom, today is also known as Pancake Day.  Celebrate with pancakes for dinner!
14. Happy Valentine's Day!  Plan a Valentine's Day scavenger hunt for your kids with a sweet treat for them at the end.  Have heart-shaped everything today!  Use a heart-shaped cookie cutter to make Valentine's pancakes for breakfast and heart-shaped sandwiches for lunch.  Shape pizza dough into a heart shape for dinner tonight!
15. Add these recently released middle grade children's books to your book collection or borrow them from the library:  The Truth as Told by Mason Buttle (January 23),  Arlo Finch in the Valley of Fire (February 6), Checked (February 6), The Unicorn Quest (February 6),  Marabel and the Book of Fate (February 6), Payback on Poplar Lane (February 6) and The Midnight Gang (February 27).
16. Have a family game night.  We are enjoying Sushi Go Party!
17. Today is National Random Acts of Kindess Day!  Challenge your kids to show kindness.  Some ideas include give 5 compliments today, hold the door for the person behind them and/or help someone in need.
18. Visit a museum.  Science museums are a family favorite since they are so hands-on and fun for everyone.
19.  Happy President's Day!  Here are seven ways to celebrate with kids.
20. Plan a family movie night!  Some popular children's movies being released on DVD this month include Hey Arnold! The Jungle Movie (February 13), Wonder (February 13), and Coco (February 27).  And for mom time, A Bad Moms Christmas (February 6).
21. Make a bird feeder and hang it outside a window to watch the birds (and possibly the squirrels!) eat.
22.  Today is National Margarita Day!  Make a kid-friendly alcohol-free frozen margarita for the kids…..and maybe ones with some alcohol for the adults!  You can serve them in these fun glasses!  It's also National Chili Day.  This Slow Cooker Beanless Chili is a great way to celebrate!
23. Have a family date night out and go to an Escape the Mystery Room.  Read about our fun experience doing this.
24. Read a chapter book together as a family.  Take turns reading a couple of pages.  My son and I are finishing up The Lost Hero and will soon be reading A Wrinkle In Time.  I want to read it before the movie comes out next month.
25.  Celebrate the end of the 2018 Winter Olympics with a Korean dinner.  Either go out for Korean BBQ or Bibimbap (one of my favorite dishes!) or make Korean food at home!  Maangchi and Kimchi Mom are both great websites to find recipes.
26. Today is National Tell a Fairy Tale Day.  Have your children retell their favorite fairy tales.
27.  Plan a trip out to the movies.  Family-friendly movies coming to the big screen this month include Peter Rabbit (February 9), Monster Family (February 9), Early Man (February 16), and The War With Grandpa (February 23).
28. If it is winter and COLD where you are, go outside and fascinate the kids with Frozen Bubbles.