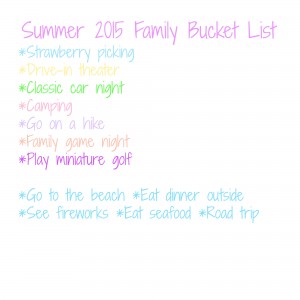 Yesterday was the official first day of summer.  As the kids finish up their last week of school we have made our summer bucket list.  Making a summer bucket list is a fun way for us all to choose something that we want to do together.  Our family time is limited so it's nice to have a plan of what we want to accomplish.  Plus, having our list in writing makes us more accountable to actually accomplishing it!
Strawberry Picking – This was something we had been meaning to do for awhile and we finally went strawberry picking a few weeks ago.  It's kind of cheating to put it on our "summer" bucket list, since we technically didn't go during summer.  However, there's a limited window of opportunity for strawberry picking in our area (around the first week or two in June) and it just seems like a summer-time activity!
Drive-In Movie Theater – I discovered that there's a drive-in movie theater about an hour a way from our house.  I think it will be fun to be able to watch a together in the car.  We can possibly bring dinner and some treats and have a different family movie night experience.
Classic Car Night – The Weekend Chef would like us to go to a Classic Car Night show.  It may end up being the local show held out in the McDonald's parking lot, unless we can find a bigger one not too far away.
Camping – My daughter wants to go camping this summer and we already have our weekend in July blocked out.  Now, it's just a matter of choosing the where!
Go On a Hike –   My son's first response to what he wanted to do this summer was go on a hike.  While I first said maybe we can put this on our fall bucket list I decided to add it.  Maybe we can go on a night hike or hike on a not-so-hot day.  Since this was his first choice, we are going to do it.
Family Game Night – This was my son's alternate response.  He suggested that maybe we can play soccer or volleyball together.  Or play games inside.  We enjoy family game nights so I am adding it to the list.
Play Miniature Golf – This is an activity that we don't get to do very often but the kids love.  Hopefully we can get a round or two in this summer!
Finally, the bottom of our list are activities that are already planned.  Going to the beach, eating seafood, fishing, and eating dinner outside are all activities that we usually end up doing during our annual Rhode Island 4th of July vacation.  We are driving to Disney this summer which takes care of the road trip and I'm sure we'll be seeing a fireworks show or two down there!
What are some activities on your summer bucket list?