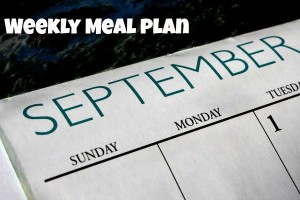 This past week again was filled with slow cooker meals and quick and easy dinner options.  Before and after school activities have started and we need quick and easy dinners!
Saturday – We were at our local Town Day and ate the usual fair foods for dinner (sausage & peppers for the adults, cheeseburger and hotdog for the kids).
Sunday – We hosted our monthly Supper Club.  Since one of our member's is lactose intolerant and usually needs to take several Lactaid tablets throughout our dinners this month's theme was "Dairy-Free."  I made CrockPot Sweet and Spicy Ground Turkey and Sweet Potato Stew.  This was a tasty dish that I'll be posting on the blog soon!  It's definitely worth making again!  The Weekend Chef made Kale-Apple Salad with Maple-Walnut Dressing.  This was a nice light, refreshing, seasonally appropriate salad.
Monday – I made Crockpot Potato, Cheddar, and Ale Soup from Pink Parsley.  I also made a variation of these Feta and Jalapeno Corn Muffins from Living the Gourmet.  My kids might be a little spoiled with me cooking different dinner recipes every night when my daughter commented, "Haven't you made this before?" when I told her the soup we were having for dinner.  Yes, I believe I actually did make this soup once before and it was as good this time as it was the first.  My son, who rarely asks for seconds of anything had a second bowl of this soup.
Tuesday – I made Shredded BBQ Chicken Burgers from What's Gaby Cooking.  This was made in the slow cooker and was more like a pulled chicken sandwich, rather than a "burger."  I had regular hamburger buns which were not very sturdy once the filling was piled on.  These became more of a "sloppy chicken sandwich" than a burger.  It was tasty and did not need the guacamole, which I could hardly taste.  I served these sandwiches with fries.  This meal was another winner with the kids.
Wednesday – I made Chicken Bacon Swiss Spaghetti Pizza from Melanie Makes.  I am a big fan of Melanie's recipes and have made several from her blog.  They are always tasty.  However, like this recipe, they are not always "quick and easy."  Between shredding the swiss cheese and cooking the pasta, chicken, bacon and mushrooms and onions, there were a lot of steps and a lot of dirty dishes!  The kids were intrigued by the spaghetti "pizza" though and after taking off the mushrooms ate this right up!
Thursday – I made Quick and Easy Lentil Quesadillas from Pinch of Yum.  This recipe reminded me a lot of the Slow Cooker Lentil and Brown Rice Tacos that have become a regular on our menu.
Friday – The adults had leftovers and the kids had pizza at a neighbor's birthday party.
What was your favorite meal last week?