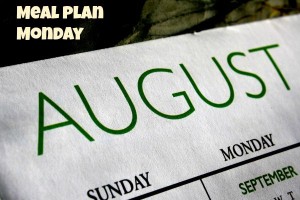 Here's a look at what was cooking in our kitchen last week.  Hopefully, it will help inspire some ideas for your own meal planning!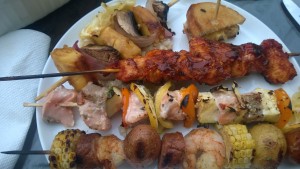 Saturday – We had Supper Club.  This month's theme was "Food On a Stick."   I made Teriyaki Portobello Mushroom Kabobs and the Weekend Chef made Dulce de Limon Ice Pops.  Everything was delicious!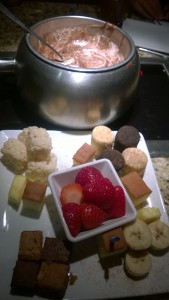 Sunday – We went out to The Melting Pot for a belated birthday celebration for our son.  It was a fondue extravaganza!
Monday – I made Gnocchi with Zucchini, Sweet Corn and Basil.   This is a great summer recipe, where I was able to use the basil that I've been growing.  We all enjoyed this.  I served with tomato and mozzarella slices.
Tuesday – I was planning on making a chicken dish that called for more basil and a cram sauce.  I just wasn't feeling it though so I ended up just making breaded chicken cutlets, rice and tomato slices (that we grew from the garden box!).
Wednesday – The kids were away and I made Crispy Buffalo Wing Shrimp with Blue Cheese Grits.  This was ah-mazing!  I could just eat the blue cheese grits by themselves they were THAT good…..but adding the buffalo wing shrimp….yum! I've made grits before and the kids don't like them, so this isn't a dish that I'd make again for them.  When it's just the Weekend Chef and I, umm, yeah, this will be happening again!
Thursday – The Weekend Chef made Pineapple Dak Bulgogi (Pineapple Korean BBQ Chicken).  He pre-made the marinade the night before.  I got home and sliced the chicken so it could marinate for an hour or so.  The pineapple was sitting in the marinade since the night before though and absorbed the spiciness of the gochujang.  I could only eat a couple of pieces of the pineapple it was so spicy.  The chicken though was delicious.  Again, this was a dish that would be too spicy for the kids but perfect for just the Weekend Chef and I.  He served this with rice and the leftover vegetables from my Supper Club kabobs.
Friday – I made an adapted version of this Guacamole Pizza.  I wish I had the Portobello mushrooms, but when I went to use the ones I had bought they had started molding…yuck!  And I wasn't running out to the grocery store in the middle of dinner prep to get some.  The kids dislike avocados and guacamole, so this was another meal that I was saving for just the Weekend Chef and I.  This pizza was good….if you like guacamole.  If you do decide to make it, be sure to eat the whole thing the day of.  Leftovers did not taste nearly as good….or look as good.