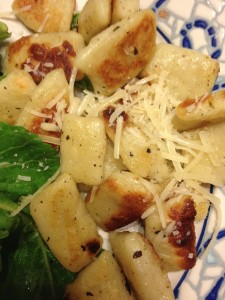 We hate wasting food and are getting better about using up leftovers.  When we ended up with a ton of leftover mashed potatoes after a family gathering, an aunt suggested that we make gnocchi.  We have made ricotta gnocchi before, but had never tried making them with leftover mashed potatoes.  We found this recipe and realized how easy it was!  After cooking the gnocchi in the water, we sautéed them in some butter until they turned golden brown.  Sprinkled with some parmesan at the end, these were soft, pillowy bites of deliciousness that we all gobbled up!
Leftover Mashed Potato Gnocchi
Recipe adapted from Food & Whine
Ingredients:
2 cups mashed potatoes
1 cup flour (approx)
1 egg
1T butter
1T olive oil
salt and pepper to taste
Directions:
Combine mashed potatoes, flour and egg in a large bowl until it forms a ball of dough. Add more flour if dough is sticky. Turn dough out onto a well-floured surface and divide into 3 sections. Roll sections into long snakes with about a 3/4″ diameter. Cut each snake into 1″ pieces. Take a fork and press down on the tops of each piece to create ridges.  Place gnocchi one at a time into a large pot of boiling water until they rise to the top. Remove from water. Cook with  butter/oil in a large fry pan until browned.  Serve with your favorite pasta sauce or simply with some shredded parmesan cheese.