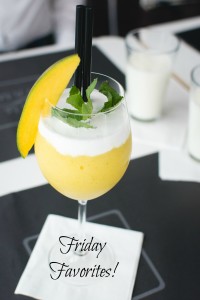 Happy first day of spring!!!!   We are expecting 3-6 inches of snow today.  Mother Nature is so cruel!  If you don't have snow and can get out to your local Rita's, they are giving away free Italian ice today to celebrate the first day of spring!  Work has been super busy this week and I am so glad the week is over! Here are some favorites of the week!
1.  While I'm still watching One Tree Hill, my other favorite Netflix series is Private Practice.  I had started watching this when it first debuted but then stopped for whatever reason.  It's a little bit like Grey's Anatomy except at a medical practice.  I'm enjoying it but of course I decide to pick shows that have 100+ episodes each!  I have so little time to watch television as it is that I'll be watching these shows for awhile!
2.  Favorite bookmarked recipe of the week:  These S'mores Blondies from blog Crazy for Crust. I love all things S'mores.   Growing up camping with my family and being a girl scout….I was raised on s'mores!  If you're a regular blog reader, you've noticed that I haven't been posting any dessert type recipes.  That's basically because I haven't been cooking any!  The kids gave up all sweets and treats for Lent.  They've been impressively good with sticking with this and I am NOT going to tempt them.  (I think next year they're going to stick to one specific thing, like ice cream or candy….not EVERYTHING!!).  So hopefully, after Easter, I will be trying these S'mores Blondies out!
3.  My Panera salad.  If you follow me on Instagram, you saw that I had the Chicken Cobb Avocado salad for lunch yesterday!  Before I started working from home, I'd alternate between this salad and Chipotle for lunch on Fridays.  Since I started working from home, we usually have leftovers that I can eat and it's so much easier to just eat at home, rather than drive somewhere.  But yesterday, I was craving this salad and succumbed to the craving…..YUM!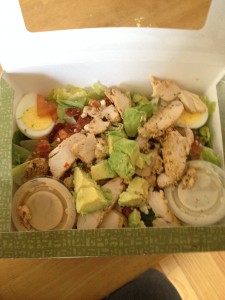 4.  My brother was watching the kids last weekend and introduced my daughter to this YouTube channel "Kids React."  She has been binge-watching these videos.  I saw this one with her about kids trying escargot.  They have tons of videos with kids reacting to different topics from VCRs and typewriters to caviar and SPAM.

5.  Booking our vacation!   You will probably be hearing A LOT about our trip from now until August, when we finally go.  But this week we booked our vacation to Disney!  We decided to drive this time to save on airfare.  We're going to spend 6 nights and 7 days at the actual hotel!  It's been four years since our last trip and we're sure the kids are going to have a blast!
photo credit:  The Disney Moms
Have a great weekend!
Linking up with Amanda from Meet @ the Barre, Andrea @ Momfessionals, Jenni from The Diary of a Real Housewife, Tif from Bright on a Budget and Michael from Rattlebridge Farm.