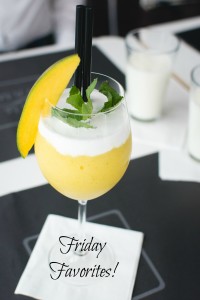 Happy Friday!  I hope you all had a great week!  This was the kids' first week of summer camp.  They enjoyed a week that included tie dyeing t-shirts, Color Wars, swimming in the pool every day and more!  Here are some favorites from this past week:
1.  Our son turned 7!   I can't believe my "baby" turned 7.  While he loves getting older it doesn't make me y happy to know that I'm getting older as well!  Between his summer birthday celebration in school back in May, a family celebration over the 4th of July weekend, a celebratory dinner with one set of grandparents and his birthday party with his friends last weekend and then his actual birthday Tuesday which we celebrated with his other set of grandparents, I feel like we've been celebrating this boy's birthday forever!  This is what we sing to him with on the day of his actual birthday AFTER he's already had ice cream brownie sundaes, ice cream cake, cupcakes and rice krispy treats over the past week or so!
2.  Favorite bookmarked recipe: Although not a recent recipe, this Smoked Salmon Breakfast Pizza from 84th &3rd is new to me.  I think it will taste okay even without the salmon caviar!
3.  Winner winner!  Our local radio station held a kid's summer joke contest.  Each week they pick one joke as the winner.  The child tells their joke on the radio and wins a family four-pack of tickets to Hershey Park.  Well, this past week, our daughter was chosen as the winner!  Ready for her winning joke?!!  "You go into the bathroom American.  You leave the bathroom American.  What are you in the bathroom? ….. You're a-peein!"
4.  Scandal – So I finished watching the newest episodes of Scandal on Netflix.  I tried holding off on those last two episodes as long as I could because I knew I'd be in Scandal withdrawal!  While I've been watching House of Cards, although it's about politics and the White House, it definitely does not have the same suspense and drama as Scandal.  I have started watching The Killing, and have been sucked in, but not sure how they got so many episodes since so far season 1 revolves around one murder.  If anyone has any Netflix recommendations for suspense/drama shows I'm all ears!  I've already watched The Blacklist and enjoyed that a lot as well!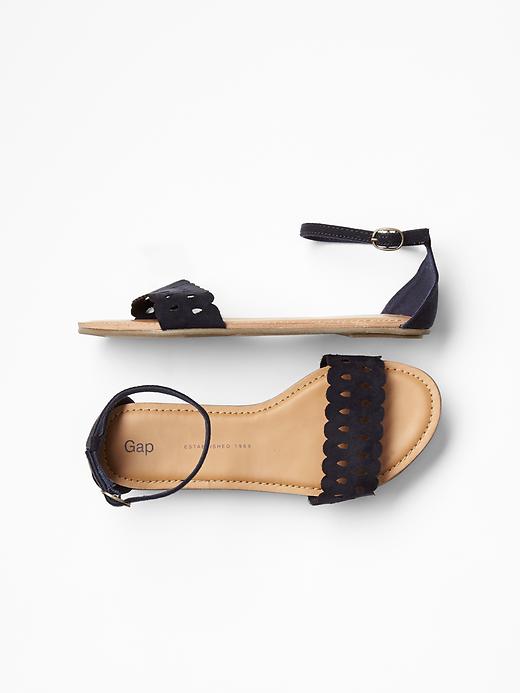 5.

 Shopping – Since I'm not working over the summer, I shouldn't be shopping.  But luckily, I still have a GAP gift card from Christmas (?!!).  I went to the mall on Tuesday to try to find my daughter a bathing suit at Children's Place (no luck – they have back-to-school stuff out!)  and ended up stopping at the GAP.  I can't NOT go in when they're having a super take 50% off the lowest clearance price sale!  I got the Weekender shorts pictured above in "true indigo"  (navy blue) for $9.99!  Online they're currently selling for $31.99.  It's nice having small feet and being able to fit into a girls size 4 shoe.  I got these Scalloped sandals for about $7 and they match the shorts I bought!   Online they're currently priced at $9.99 which is still a pretty good deal!  Not sure if the in-store sale is nation-wide or if the take an additional 50% off sale is still going on, but it's worth checking your local GAP to see!
I hope everyone has a great weekend!   We are off tonight for a quick weekend trip back to Rhode Island.  It will hopefully be a little quieter with just our family this time!  Linking up with Amanda from Meet @ The Barre, Andrea @ Momfessionals, and Tif @ Bright on a Budget.