And it's Friday again!  The summer is flying by and we are going to be enjoying a rare summer weekend at home! Our daughter is spending the weekend at Hershey Park with a friend and we have our monthly supper club this weekend.  So, we will hopefully have a pretty relaxing weekend.  Here are five from this week: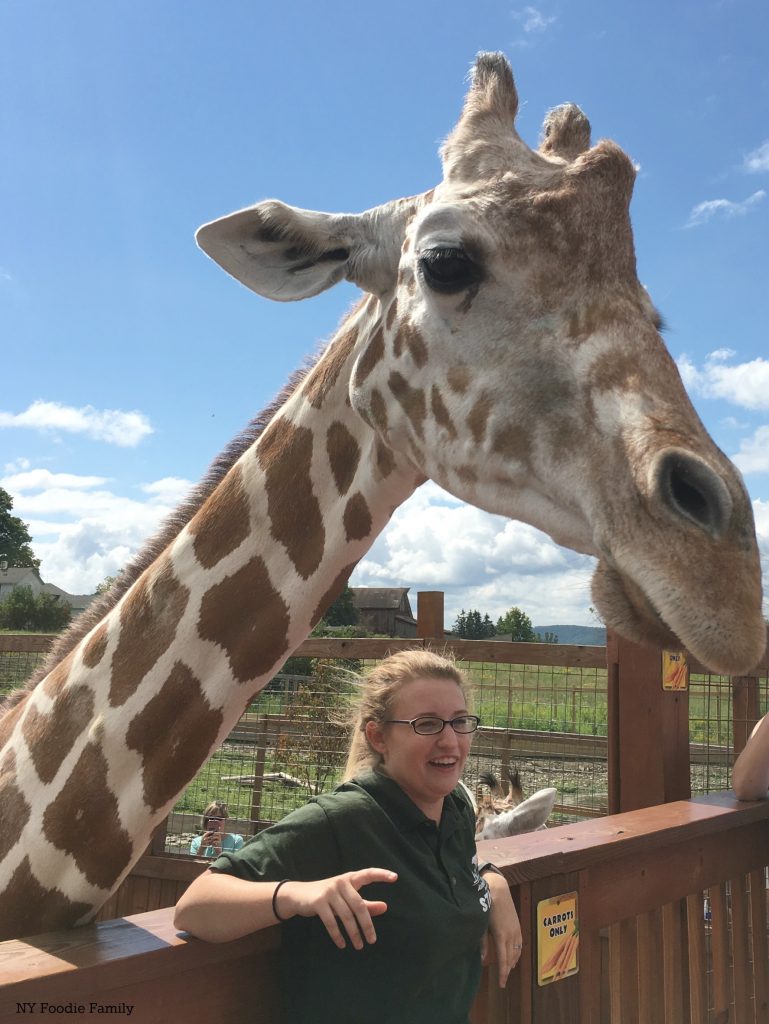 1. Memorable Moment –  Were any of you constantly watching and awaiting for April the Giraffe to give birth like we were?!!  Last weekend we surprised the kids with a visit to Animal Adventure Park.  We got to pet and feed April and her baby Tajiri ("Taj").  We also got to feed and pet many other animals including camels, llamas, goats, yaks and more.  There will be an post about our experience at Animal Adventure Park coming soon to the blog!
2. Reading – I am finishing up Emma In the Night on my kindle.  I'm over half-way through and feeling "eh" about it.  I'm hoping for some big jaw-dropping moment at the end.  Once I finish this one I will be starting A Man Called Ove, which I'm very excited about after loving Fredrik Backman's Beartown.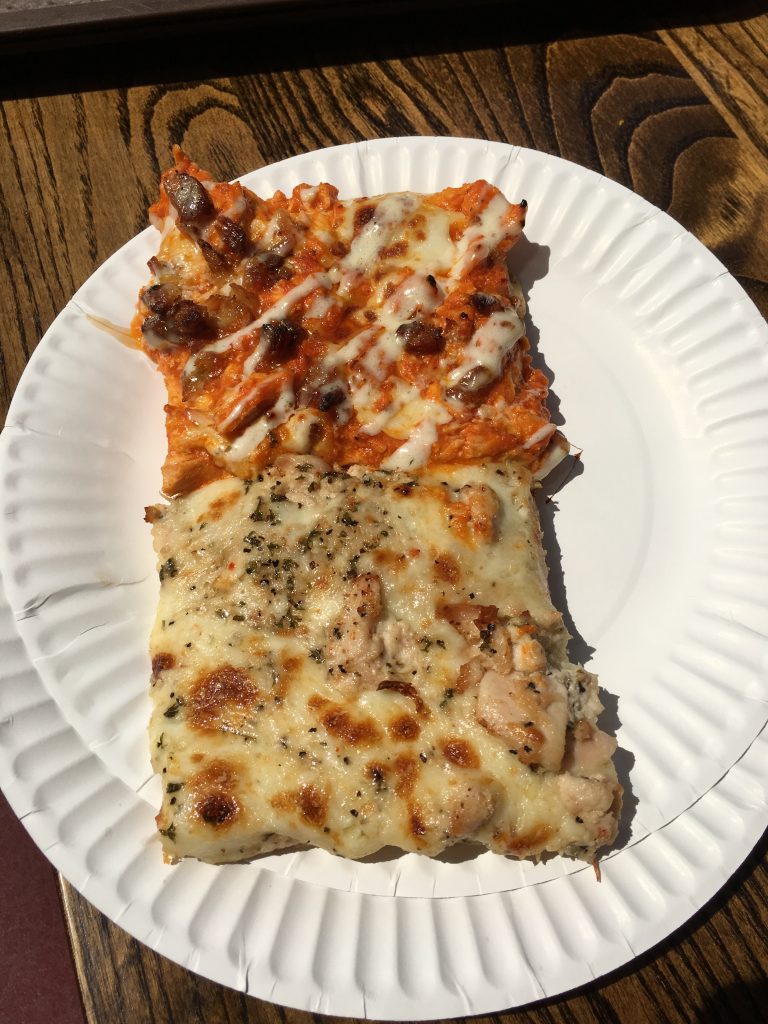 3. Eating –  Constantly being on the road in vacation mode we have not been eating the healthiest.  However, we have been eating some tasty food!  This past weekend on our last trip we enjoyed these square "sheet pizza" slices from Nirchi's in Binghamton.  I of course had to go with the regional specialty, and get a Chicken Spiedie slice as well as a Buffalo Chicken Ranch slice.  And if you follow me on Instagram or Twitter than you already saw the Buttermilk Chicken Sammy I ate this weekend as well! When we are home, I am cooking healthy meals.
4. Alumni College Visits – This past weekend was centered around showing our kids our college alma maters.  We first stopped at SUNY Binghamton, to show the kids my husband's college campus.  The next day we visited Cornell University where I graduated.  Yes, at 9 and 11, the kids are a little young, but I think that it's never too early to get them thinking about their future.  Plus, Cornell is just a beautiful campus to visit!  This is Beebe Lake, located on the campus.  We walked a little bit of the trail around the lake and even did some geocaching during our visit.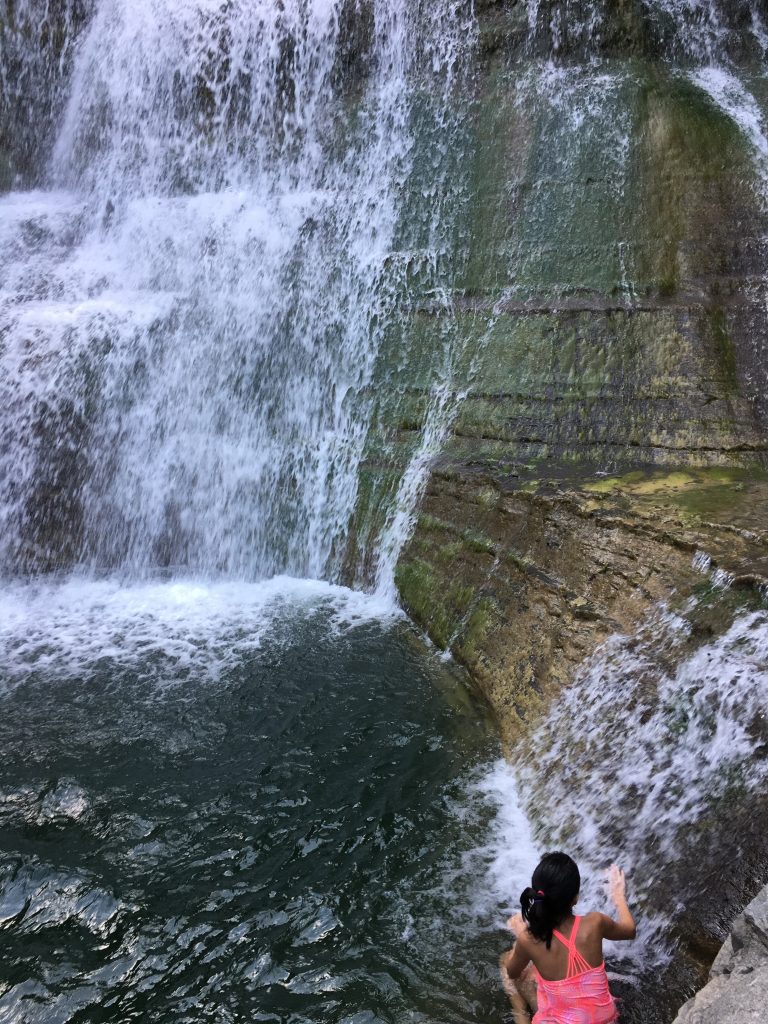 5.  Another Memorable Moment – I wanted to visit Ithaca during the summer because several state parks are located in the city and have waterfalls that visitors can swim in.  We visited Robert H. Treman State Park where there is a waterfall that you can sit under and dive and swim in a stream-fed pool.  The water was a freezing 66 degrees so I didn't go anywhere near it.  My kids braved the water for a bit and my daughter needed to get close enough to the falls so she could say that she touched them!
ICYMI this week on the blog: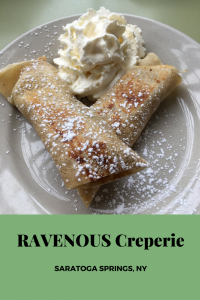 Monday I wrote about the Saratoga Springs restaurant Ravenous Creperie.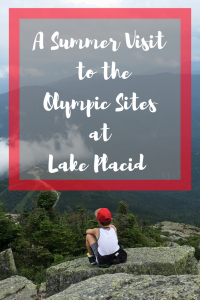 Tuesday I wrote about our summer visit to the Olympic sites at Lake Placid.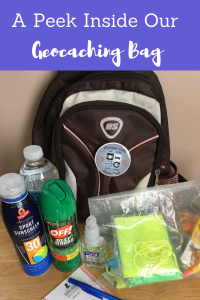 Thursday I shared a peek inside our geocaching bag.
Linking up with Katie and Andrea!  Have a great weekend!