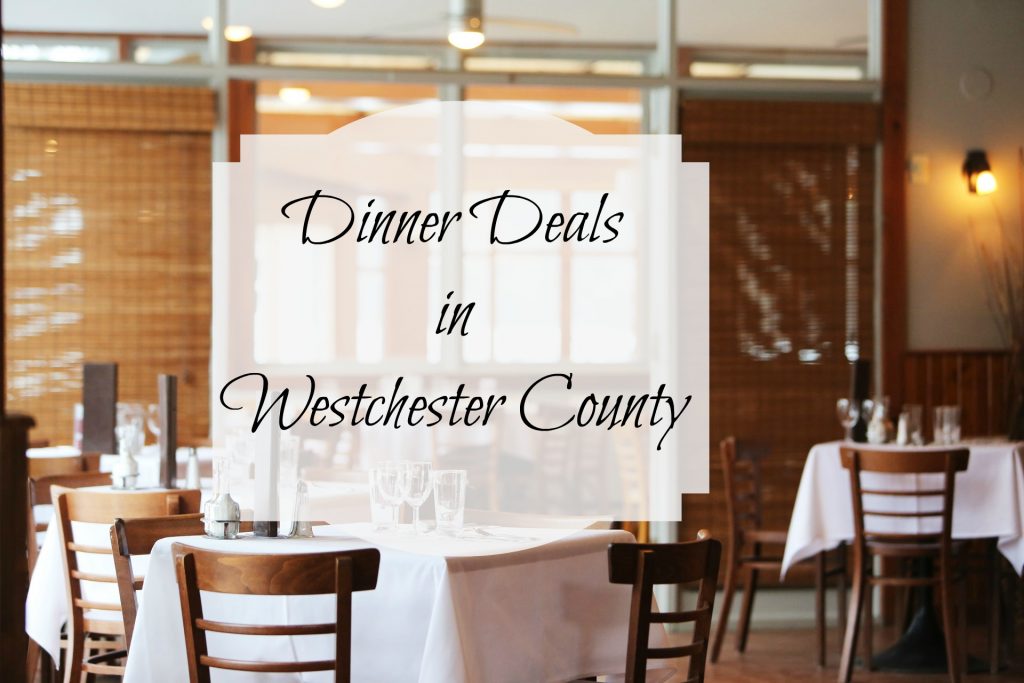 Westchester County has so many amazing restaurants, with new places opening every month.  I enjoy dining out, however, with a family of four, it can get very expensive!  Fortunately, many restaurants throughout Westchester offer special dinner deals throughout the week.  Whether you're in the mood for a burger or a fancy three-course meal, there are restaurants throughout Westchester that cover it all!
**Please confirm the details with the restaurant for the most up-to-date information.  
251 Lex
251 Lexington Avenue
Mount Kisco, NY 10549
(914) 218-8156
251 Lex offers a 3 course Prix Fixe Menu for $45 Monday through Saturday, 5-10 PM.
273 Kitchen
273 Halstead Avenue
Harrison, NY 10528
(914) 732-3333
273 Kitchen allows you to choose three courses for $45 (dip, starter, third course) and a dessert on them.
An American Bistro
296 Columbus Avenue
Tuckahoe, NY 10707
(914) 793-0807
An American Bistro offers a $30 fixed-price three-course menu Sunday through Thursday.
Angelina's Ristorante & Brick Oven Pizza
97 Lake Avenue
Tuckahoe, NY 10707
(914) 779-7944
Angelina's offers a prix fixe dinner menu (appetizer and entree) Monday through Thursday 3-closing for $29.95.
Anna Maria's Cucina Italiana
18 Chatsworth Avenue
Larchmont, NY 10538
(914) 833-0555
Wednesday is pasta night at Anna Maria's.  Enjoy 2 courses for $19 (first course and a pasta).  The restaurant is open 5-9:30 PM.
The Bayou Restaurant
580 Gramatan Avenue
Mount Vernon, NY 10552
(914) 668-2634
Tuesday:  Fat Tuesdays – All-You-Can-Eat specials $22.99 (Jambalaya, Catch O'Day, Pasta O'Day, & Chops O'Day)
Wednesday:  Voodoo Night – $6 Voodoo Wings
Bread and Brine
19 Main Street
Hastings-on-Hudson, NY 10706
(914) 479-5243
Monday:  Steamer Night – 1 lb. of steamer clams and a pitcher of Narragansett Lager for $25
Wednesday:  $1 oysters all night
Crabtree's Kittle House
Eleven Kittle Road
Chappaqua, NY 10514
(914) 666-8044
Crabtree's Kittle House offers a three-course Prixe Fixe dinner menu Sunday through Friday for $39.
Eastchester Fish Gourmet
837 White Plains Road
Scarsdale, NY 10583
(914) 725-3450, ext.1
Monday:  Lobster Special – 1 1/2 pound steamed and cracked Maine lobster, baked potato and cole slaw $29.95
Thursday:  Raw Bar Special – Clams $1 each, assorted,  Oysters $1.25 each, Wild Shrimp Cocktail $1.50 each
Fat Sal's Bar & Grill
265 Tate Avenue
Buchanan, NY 10511
(914) 930-1771
Mondays:  Buy one burger, get the second one 50% off (equal or lesser value with purchase of a beverage)
Tuesdays:  5 Tacos for $7.95 (w/purchase of a beverage)
Wednesdays:  $5 wines 4 PM – closing (select wines)
Golden House Chinese Cuisine
3639 Hill Blvd.
Jefferson Valley, NY 10598
(914) 962-8088
Golden House has a $17.95 dinner special Monday through Thursday that includes a choice of soup, appetizer and dinner (from selected items) and house special fried rice.  There is a 2 person minimum.
The Hudson Room
23 South Division Street
Peekskill, NY 10566
(914) 788-FOOD
The Hudson Room offers a 3 course Prix Fixe meal for $32.95 (appetizer, main, dessert) Monday through Wednesday.
Juliana's Schoolhouse
276 Watch Hill Road
Cortlandt Manor, NY
(914) 788-0505
Enjoy the early bird menu that includes choice of appetizer, soup or salad, a main and a dessert, everyday from 5-6:30 PM.
Kee Oyster House
126-128 E. Post Road
White Plains, NY 10601
(914) 437-8535
Sunday:  Sunday Fun Day – half price lobster
Tuesday:  Tasty Tuesday – half price starters
Kirby's Grill and Bar
345 Kear Street
Yorktown Heights, NY 10598
(914) 245-9030
Tuesdays:  Rib Deal
Wednesdays:  Kids eat free
L'INIZIO
698 Saw Mill River Road
Ardsley, NY 10502
(914) 693-5400
L'INIZIO offers a 3-Course Prixe-Fixe dinner menu for $33, Monday through Wednesday.  They also have Family-Style Sunday where family-style bowls of pasta are $36.
Moderne Barn
430 Bedford Road
Armonk, NY 10504
(914) 730-0001
Sunday:  Prime Rib and Popovers!  – Enjoy a 14 oz. prime rib au jus w/horseradish, a homemade popover and one side dish for $38.
PLATES
121 Myrtle Boulevard
Larchmont, NY 10538
(914) 834-1244
Plates offers a 2 course Prix-Fixe menu Sunday through Thursday,  5 PM-6:30 PM for $30.
Sunday evenings they have a Bottomless BBQ for $28.
Rye Roadhouse
12 High Street
Rye, NY 10580
(914) 925-2668
Mondays:  Make Your Own Quesadillas starting at $6.95
Tuesdays:  Burger Night – 5-11 PM half-price burgers
Wednesdays:  Fried Chicken Night – Four piece chicken dinner with two sides $10.95
Spring Special:  Little Leaguers who come in uniform eat 1/2 price Sunday through Thursday from the Kids Menu or Roadhouse Burgers or Mac and Cheese Bowls.
Saint George Bistro
155 Southside Avenue
Hastings-on-Hudson, NY 10706
(914) 478-1671
Saint George Bistro offers a Two Course Prixe-Fixe menu for $25 weekdays, Tuesday through Thursday.
Saltaire Oyster Bar
55 Abendroth Avenue
Port Chester, NY 10573
(914) 939-2425
Saltaire offers a three course dinner for $32.50 Sunday, Monday and Tuesday from 4 PM.
Umami Cafe
325 South Riverside Avenue
Croton-on-Hudson, NY 10520
(914) 271-5555
Sundays:  Enjoy fish tacos for $7.50 each.
Mondays:  Enjoy BBQ ribs for $12.95
Tuesdays:  $10 Burger night.
Thursdays:  All appetizers $6.50.
Winston Restaurant
130 East Main Street
Mount Kisco, NY 10549
(914) 244-9780
Winston offers a three course Prix Fixe menu Sunday through Thursday for $32.95/person.
If you know of any other dinner deals in Westchester County, please let me know in the comments below and I will add it to this list!